Are you a BBW Escort working in the UK or Ireland? Free listing for independent and agency ladies with their own website!
If you are an independent escort, all you need is your decent quality web site linking back to us to advertise free of charge. The website must have its own domain name, and not be the name of the free hosting site. This does mean you will have to have invested some money in the creation of your website. We reserve the right to decline listings to ladies whose picture or web sites are not of reasonable quality, particularly self-built free sites/ free sites with host- generated advertising links. At the bottom of the page are the linking details and banners you should use to link to bbw.me.uk.
If you run an agency, group, or escort, aand have onl an Adultwork profile, please scroll down for listing details.
To get yourself listed, just send a clear portrait style picture (one third taller than it is wide) your web site link, and what area (region and town) you would like to appear in, to admin@bbw.me.uk only AFTER placing the link back to us on your site.
We will only list you once you are linking correctly to us, and you must maintain your link to us for as long as you want to advertise here! Our banners and text link are at the bottom of this page.
Featured Advertising
If you're new to the Internet escorting scene or just want to give yourself an extra boost, consider becoming one of our featured escorts.
Charges
£20 – For one month, this purchases a listing on the Home page, an area of the UK, and a county
£40 – For three months, this purchases a listing on the Home page, an area of the UK, and a county
£70 – For six months, this purchases a listing on the Home page, an area of the UK, and a county
£120 – For one year, this purchases a listing on the Home page, an area of the UK, and a county
Please email me at admin@bbw.me.uk to set up your feature and arrange payment. A receipt for your expenses can always be provided. I will need two pictures and some text to place in the advert. It can also contain tour dates.
Listings for escorts without a web site.
I do not accept listings from those who do not have their own website with a unique website address. If you don't have a website, you can either have a paid featured advertisement, rates above, or I can create a website for you. My rates are very reasonable. For more details on having your own site, please visit Select Web Design
Websites and Photography
Do you need a website created for you? Then consider Select Website Design.  We create unique websites to your specification at a very reasonable price   Click Escort Websites for more information.
Listings for escorts with an AW profile
Escorts with an AW profile will automatically be listed on this website. If you think you should be here, but are missing, then please check the following.
Are you looking in the correct area, the area must match the county you specified in Adultwork. If you change the Adultwork area, it will take several hours before the change appears on this website.
Have you completed the Interviews and set a dress size of greater than 14.
Your profile is set for escorting
On your Adultwork profile, have you opted out of appearing on External Sites. If you opt out, then you will not appear on this site.
Links and Banners
Download the banner you choose (right-hand mouse click / save as) Place the banner on your website where you have your links. Then link the banner to https://www.bbw.me.uk

Or use the following code.
<a href="https://www.bbw.me.uk" target="_blank"><img src="https://www.bbw.me.uk/wp-content/uploads/2014/10/BBWbanner.gif" alt="BBW Escorts"></a>
Or use the following code
<a href="https://www.bbw.me.uk" target="_blank"><img src="https://www.bbw.me.uk/wp-content/uploads/2014/10/bannersm.gif" alt="BBW Escorts" width="120" height="80" /></a>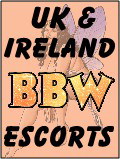 Or use the following code
<a href="https://www.bbw.me.uk" target="_blank"><img src="https://www.bbw.me.uk/wp-content/uploads/2014/10/wpa0cac423.png" alt="BBW Escorts" width="120" height="159" /></a>